Also known as the Red-Lined Torpedo Barb, Rose Line Shark, Denison's Barb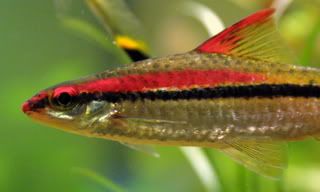 I am now the proud owner of 6 of these beauties - they are quite shy in the beginning but are now really starting to shine. Extremely peaceful even for their size and none of the smaller fish show any fear. They really do school - I rarely see one going off on it's own.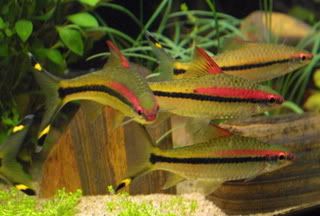 Their colouring is just amazing and when they were first imported people even suspected dying as the red is so vibrant in them. They do like to eat plants now and again so do feed them some spirinula now and again to keep their 'green' needs up. Not fussy eaters at all - they have eaten everything I have thrown in so far from frozen to flake to live and even like the corydoras wels tablets.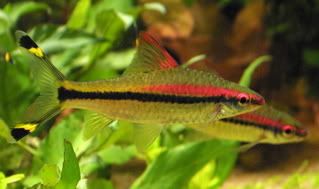 If you have a big tank of at least 200 liters I can heartily recommend these gentle giants (they grow to 15cm) and they mix great with the smaller tetra's. They are schooling fish so it is best not keep less than 4. The downside to the georgeous fish is their price - here they cost 20 Euros / 27 US Dollar / 13 British Pounds a fish!!!! But I truly believe they are worth every penny! Which fish isn't? They are not too fussy about water parameters but do like a strong current to swim in. The above foto's are all my own ;)