So on a follow up on the blog I did about plant nutrition a few days ago the questions are flowing in on do I need CO2?...are my lights strong enough?..etc..etc...
If you have never ventured into the world of aquarium plants as you are scared and cannot be bothered with all the hassle of special ferts, high lights, CO2 then don't bother with all that!!  There are enough beautiful and interesting plants that are happy enough in a low maintenance every day lighting kind of tank.
Here is a list of EASY and LOW LIGHT plants
Anubias are great and undemanding...only condition is not to plant these but rather attach them nicely to some rock or wood.
Anubias barteri var. barteri which also comes in an array of versions like marbled etc.
Anubias barteri var. nana - same as above but mini version & the nana version comes in some varietes"
Anubias bar. var. nana 'Yellow heart'
Anubias bar. var. nana 'petite'
Normal Anubias barteri var. nana

Anubias barteri var. nana 'Marble'

So there is an Anubias for e very size tank as well as lot's of nice variations - just remember the name Anubias Barteri and you can't go wrong ;)
For mid and foreground nearly all Cryptocoryne also work great! and they come in all different kinds of leaf shapes & colors.

All Microsorums - Java Ferns will also work and there are variations - it takes a disaster to kill these in the tank...even with no light for some weeks they do great.
           
For backing plants in the scape you cannot go wrong with:
Hygrophila Polysperma (please note illegal in some countries/states)
Hygrophila Tiger Sp.
Ceratophyllym demersum
                 

Bacopa australis
Bolbitis heudelotii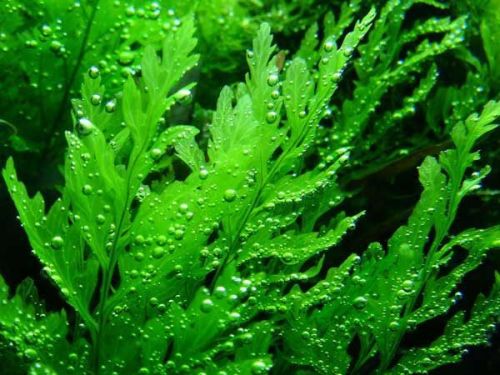 To finish off the whole look of a low light tank you can add some nice drfitwood with moss attached....mosses are also easy and can look very effective and impressive in a scape.
HAPPY PLANTING!